Enjoy the Perks: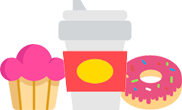 Friday lunches, unlimited coffee & snacks!
We keep the kitchen stocked with tasty snacks and coffee, and every Friday we do a company lunch.
---

Flexible Hours:
Work with shifts that best suit your lifestyle. Take advantage of loads of vacation time!
---

Great Benefits
All employees receive medical, dental, vision and lots more health benefits.